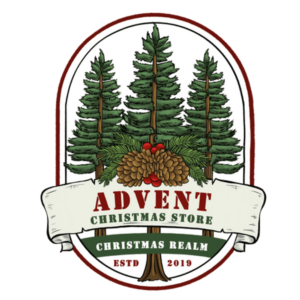 We are "THE SIBLINGS" [Alex & Tinu] behind Advent Christmas Store. When you hear or see the word "ADVENT" you must be wondering what does it mean or symbolize?? . The origin of "ADVENT" is from the Latin word ADVENTUS which means "coming" or "arrival". Advent season is a four week period before Christmas that celebrates the anticipation and coming of Jesus Christ, the Messiah.
There are beautiful and rich traditions behind the celebration of Advent, we observe four Sundays of Advent each have a specific theme or focus – HOPE, LOVE, JOY, PEACE. Rooted in a tradition that spans centuries of church history, the modern version of the ADVENT CALENDAR has been around since the nineteenth century. Advent calendars carry an underlying spiritual message of anticipation and hope by helping us remember and reflect on the coming of Jesus Christ. Instead of strictly following the four-week Advent period, which can start anywhere from November 27 to December 3, an Advent calendar typically begins on December 1 and counts down the days until Christmas.
Eventually the tradition of ADVENT WREATH was created out of evergreens, symbolizing everlasting life in the midst of winter and death as the evergreen is continuously green. The circle reminds us of God's unending love and the eternal life he makes possible. ADVENT CANDLES are often set in a circular Advent wreath, The most common Advent candle tradition, however, involves four candles around the wreath.The advent candles correspond to the themes of each week of advent. Families and church congregations begin lighting a candle on the fourth Sunday before Christmas, and they light another candle each subsequent Sunday.
Since our childhood, Christmas has always left a trail of memories on us. Our love for Christmas runs deep, it is our passion to bring you the very best décors that takes you back to the nostalgic moments of christmas. Everything about Christmas, the smells, the twinkling lights, the decorations, the joy in the air makes our hearts smile and hence we wanted to create a whimsical Christmas store.
Our dream for our stores is to offer unique, one of a kind pieces that you can't find anywhere else. We've hand selected each and every product that we are so excited to be offering to all our Christmas lovers!
There are wreaths, stockings, tinsels, lights, an enormous variety of decors and of course, Christmas trees that you need to decorate from home space to work space to any space for anyone.
We hope our stores bring you LOVE & JOY as much as it does for us. If you have any enquiries at all, please do not hesitate to contact us, We'd love to hear from you!
Much love, The Siblings Alex & Tinu